Solid Quality Inspection Steps of Seamless Steel Tube
Views: 24 Author: Tenjan Publish Time: 2020-06-27 Origin: www.tenjan.com Inquire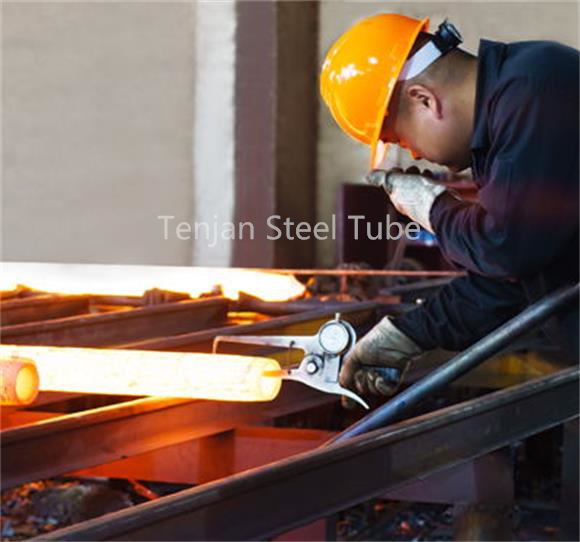 How many quality inspection steps during production of seamless steel tube? This article is all about the quality inspection process let you know how important inspection is besides final goods inspection.
1. Raw Material Inspection
Inspect round steel before storage corresponding to the purchased batch. Check warranty certificate, furnace number, length, diameter, surface of each batch. Eliminate the problem of mixed steel from the source. The raw materials are all purchased from Jiangsu biggest and outstanding round steel suppliers, such as Huaigang Special Steel and Zenith Steel Group .
2. Wall Thickness Difference Inspection after Perforation
2. After perforation, inspect the wall thickness difference and surface of the raw tube. If there are any problems such as out-of-tolerance and special marks, we can adjust in time.
3. Raw Tube Size and Surface Quality Inspection
Check the size and surface quality again of the raw tube after cooling down to ensure quality.
4. Inspection During Manufacturing
Spot check of size, surface and mechanical performance during each step of production, for example, annealing, pickling, cold drawing, and cold rolling. The squad leader will do trial production before mass production.
5. Final Goods Size Inspection
After cutting the head and tail of steel tubes, check the size and surface quality one by one. Each tube will be inspected carefully.
6. Tensile Strength, Yield, Elongation, Flattening, Hardness Tests
Mechanical performance, tensile strength, yield, elongation and hardness tests will be done to steel tubes with performance requirements. Performance test will be done before mass production. Sampling tests will also be carried on before goods delivered to ensure that they meet the requirements.
7. Eddy Current Test

Tubes for liquid conveyance with a wall thickness of less than 3mm will be done 100% eddy current flaw detection, to detect surface defects.
8. IATF 16949 & ISO 9001
We has been awarded certificates of IATF16949 Automotive Quality Certification System and the ISO9001 Quality Certification System for many years. We strictly passed independent third-party inspection to ensure the trace-ability of the steel tubes from beginning to end. And we make sure the inspection process is standardized and reasonable.
The above is the quality inspection process of a good steel pipe, especially for steel tubes with high surface quality requirements. Special attention is paid to each quality inspection process.
Please take 3 seconds to FOLLOW US:
1. Click the blue word "天展钢管" at the top
2. After entering the public account homepage, click the three dots in the upper right corner
3. Set as star
Follow Us on Wechat!